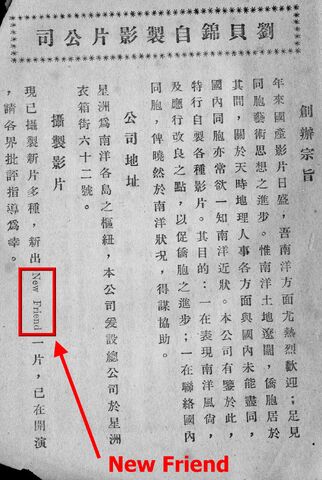 Description
Edit
Advertisement in December 1926, showed the official English name for silent film "New Friend (新客)", this film is released in April, 1927, film producer is Mr. Lau Pui Kam (劉貝錦); director and cinematographer is Mr. Kwok Chiu Man (郭超文); leading roles are Mr. Cheng Chiu Yan (鄭超人), Ms. (陸肖予), Ms. (黃夢梅), Ms. (陳夢如) and Mr. (譚民興).
File history
Click on a date/time to view the file as it appeared at that time.
Ad blocker interference detected!
Wikia is a free-to-use site that makes money from advertising. We have a modified experience for viewers using ad blockers

Wikia is not accessible if you've made further modifications. Remove the custom ad blocker rule(s) and the page will load as expected.